AKC/INT'L/NAT'L/UKC GRAND
CH StarValley's Sequin's N' Lace CA CGC
(Ch. Bofelli's Kyanite & StarValley's Poetry N' Motion)
UKC Grand Champion
AKC GrChampion producer
ASCA Major Pointed
Best in Match winner
Blue Merle Bitch
Breeder: Brandi Womack & Adrienne Isham |Owner: Kristina Whetzel
DOB: 11.11.06 | Height: 19.5" | Weight: 43 lbs
Hips: OFA GOOD | Eyes: Cleared Yearly 
CEA/CH: Normal/Clear | CMR1: Normal/Clear
prcd-PRA: Normal/Clear | cd(m): Normal/clear
HSF4: one copy | MDR-1 mutant/mutant | Pelger Huet Negative
 Scissors Bite/ Full dentition |Thyroid normal per Dr. Dodds
"The best laid plans of Mice and Men....", to quote Robbie Burns - such is Quinn's story. Quinn was supposed to come stay with us for a few months and be Brandi Murray's pick puppy from a litter between Kyan and her co-owned bitch Frankey. 
Sequin, as she was called at the time, came to stay  in January and was to be delivered in April to Brandi - ha! I grew terribly attached to her, especially since she reminded me so much of her father. Due to circumstances that worked out well for Brandi and I , Quinn, which means 5 in Latin (very appropriate considering she is our 5th dog) has decided to stay with her father and live out her life at Kyanite Acres, and is the best bed buddy next to her father.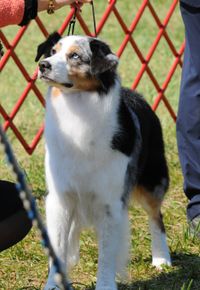 2006/11/11
BMB 11/11/2006 red factored; OFA Good full dentition scissor bite.
2004/2/29

Blue Merle male DOB: 2/29/2004 CERF'd annually OFA - Good; Red factored

Ch. Heatherhill You Talk Too Much

Ch. Paradox Propwash Then Again

Ch. Bayshores Three to Get Ready

Ch. Bayshores Tereyn Crepe Suzette

Ch. Propwash Manape Ghostrider

Ch. Bayshore Propwash Lalapalooza

Ch. Terra'Blue Just Too Hot

Ch. Briarbrooks Silverware

Ch. My Main Man of Heatherhill

Ch. Briarbrooks Silver Sequence

Ch. Briarbroooks Stacked Deck

Ch. Briarbrooks Case In Point

Ch. Heatherhill Make Mine Mink

McKays My Boots Scoot Two

Ch. Mc Kays Boot Scootn' Boogie

Ch. McKays the Heat is On